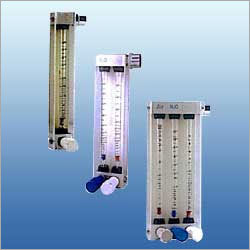 Rotameter Units
Product Description
Rotameter Units
are available in varied finish specifications as well as range, including Rotameter Unit (without tubes). It is where the differential pressure 'P' is created in main flow through an Orifice plate in the main pipeline. It creates branch of flow that flows through By-Pass line across orifice plate, from its upstream to downstream sides. The additional Orifice in the By-Pass line creates flow through Orifice plate flows in proportion with flow through the main orifice plate. It allows measurement of flow from By Pass line and allows estimation of flow from main pipe line.
We also offer
Rotameter
Tube & Bobbin comprising dual tapered calibrated tube at 20 degrees Celsius & 1013mbar abs.
The Bobbin Float featuring anodized aluminum alloy in red finish along with silver dot provides convenient rotational observation. One can confirm the operation of tubes through observing rotation of the bobbin and through checking location of flow meter bobbin.
Specifications : Rotameter Unit (Without Tubes) :
| | |
| --- | --- |
| Model No. | Volume Range |
| 3700 | Accommodates one 230mm tube |
| 3600 | Accommodates two 230mm tube |
| 3500 | Accommodates three 230mm tube |
Rotameter Tube & Bobbin:
| | |
| --- | --- |
| Model No. | Volume Range |
| 3601 | Oxygen 0.1 to 10.0 ltr/min,100 to 10000 cc/min |
| 3602 | Nitrous Oxide 0.2 to 12.0 ltr/min , 200 to 12000 cc/min |
| 3612 | Air 0.1 to 12.0 ltr/min , 100 to 12000 cc/min |
| 3613 | Oxygen 0 to 1.0 ltr/min , 0 to 1000 cc/min |