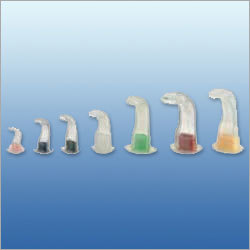 Guedel Oropharyngeal Airways
Product Description
Guedel Oropharyngeal Airways:

Also called "Guedel" airway, guedel oropharyngeal airway is a simple airway adjunct that bypasses the oropharynx.

Function details
It is a rigid tube which gives a bite-resistant passage for air from the lips to posterior pharynx. In between the posterior pharyngeal wall and the tongue rests the curved portions, keeping the epiglottis from the posterior pharyngeal wall.

Indications for use
1. For airway patency:

Unconscious patients with difficult bag/mask seal
Unconscious patients with loss of upper airway muscle tone
Intubated patients, in whom the oropharyngeal airway functions as a bite block in preventing the softer endotracheal tube's kinking.
2. For improving airway hygiene:

Suctioning a patient with poor secretion clearance
Contraindications for use

Awake patient: An awake patient can not tolerate the airway, as it stimulates the gag reflex.
Severe coagulopathy: this device with rounded edges is made of hard plastic and can still cause lacerations to the oral mucosa. Patients who have no platelets, can end up with a lung full of blood from some sort of little posterior pharyngeal bleeder before one can notice.
Methods of use/insertion
The tube is vertically placed and sized with the flange in the middle of the lips and the tip emerging at the mandible' angle.
In adults, the tube is inserted into the mouth upside-down, and once it is inserted about half way, is rotated into the normal position.
If the mouth is dry, lubricant can be extremely useful.
Trade Information
Depend on quantity of order Days

Yes
If order is confirmed we will reimburse the sample cost

Individual item packed in a cardboard box & dimension is 22 X 13 X 13 (Cms)
All India

CE, ISO, WHO GMP Certify